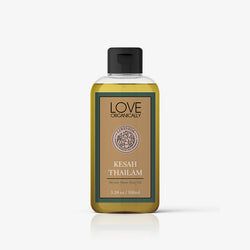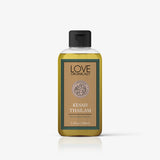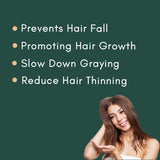 Love Organically
Kesah Thailam Hair Oil
Rs. 475
Rs. 950
Inclusive of all Taxes
Our mystic recipe is as ancient as the classic Ayurvedic tomes such as the Bhavprakash Nighantu. Our ingredients date even further back to 3000 years and have been proven by the test of time. Herbs like Jatamansi, Nagarmotha, Jaswandi, Methi, Amla, aloe, and of course Bhringraj, with the fragrant hibiscus flower all bring countless properties to the table. Each Ayurvedic herb infuses the oil with its own unique superpower, designed to fight any and every hair problem. Methi arrests hair fall, aloe moisturises and soothes a flakey scalp, Amla is Ayurvedic hair food, Jaswandi promotes good memory and Bhringraj helps with cell regeneration. And this is just to name a few. Our hair oil is for healthy hair that can combat all the adverse elements of today's world, to add luster and volume to all hair types.
Benefits
Unlike many oils, ours aims to address all your hair care needs, and prevent future worries from arising. This ancient Ayurvedic formula is a blend to make you fall in love with your hair again. Say goodbye to strands on your pillow, grays, dull, lifeless hair, frizz and even bad memory days
Ingredients:
V/W Til Tail (Sesame oil)-Sesamum indicum 60ml, Coconut tail-Cocosnucifera Linn 40ml, Processed in: Amalaki fruit-Em-blica officinalis 10gm, Methi Seeds-Trigonella foenum graecum 3gms, Nagarmotha Roots-Cyper-us rotundus 3gms, Bhrungraj Leaves-Eclipta alba 5gms, Mehendi Leaves-Lawsonia alba 2gms, Brahmi Leaves-Bacopa monnieri 3gms, Jaswand Phool-Hibiscus rosa sinensis Igm, Kamal Phool-Ne-lumbium speciosum Willd 6gms.
1. The Product contains natural ingredients & may change color and fragrance, without losing the effectiveness. 
2. Even natural ingredients can cause and trigger existing allergies. A patch test is recommended.
3. In cases of any rashes or allergy, please consult a specialist 
4. For external use only. Store in cool and dry place


Marketed By: Happyskin Promise Pvt Ltd
5th Floor, Pooja House, Next to Starbucks, Juhu Tara Road Mumbai 400049

Best Before: 36 Months
Manufactured By: ISHA AGRO DEVELOPERS PVT LTD- Plot No.55AB, Lonavala Ind Estate Nangargaon, Lonavala 410401 Maharashtra.India 
License No: PD/AYU/002/10
Country of Origin: India
Best hair oil
I love the way it has nurture my hair health. I would highly recommend it to all
Good for healthy Hairs
I have been using and suitable for all hair types....using for the past few months and love the results
Kesah Thailam- love ❤️
It's a nourishing and amazing oil… I m about to finish my first bottle and definitely will reorder… I will share more details maybe post my 3rd bottle as tht will give me results 😍
Best hair oil
I love the way it has nurture my hair health. I would highly recommend it to all
Good for healthy Hairs
I have been using and suitable for all hair types....using for the past few months and love the results
Kesah Thailam- love ❤️
It's a nourishing and amazing oil… I m about to finish my first bottle and definitely will reorder… I will share more details maybe post my 3rd bottle as tht will give me results 😍