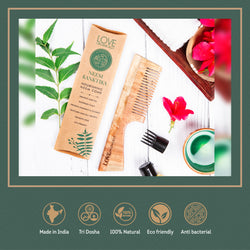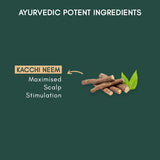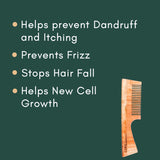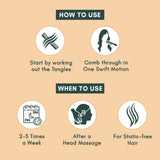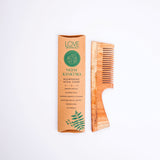 Love Organically
Neem Kanktika Nourishing Neem Comb
Rs. 230
Inclusive of all Taxes
A comb crafted from one of Ayurveda's most classic ingredients: kachhi Neem. Not only is this age-old plant a source of countless benefits, it also has an aroma that stimulates well-being. It's anti-bacterial nature prevents dandruff and allergies by soothing your scalp. It's soft edges and the ant-static nature of wood doesn't allow for breakage, running smoothly through hair without causing frizz. The wooden comb stimulates blood flow in the scalp to massage as well as encourage new hair growth. Did we mention it's so much better for the planet than your plastic comb too?
Benefits
A mindful hair-combing experience that promises better hair health. 
Helps prevent dandruff, itching, frizz
Stops hair fall 
Eco-friendly.
Ingredient: Neem wood
1. The Product contains natural ingredients & may change color and fragrance, without losing the effectiveness. 
2. Even natural ingredients can cause and trigger existing allergies. A patch test is recommended.
3. In cases of any rashes or allergy, please consult a specialist 
4. For external use only. Store in cool and dry place


Marketed By: Happyskin Promise Pvt Ltd
5th Floor, Pooja House, Next to Starbucks, Juhu Tara Road Mumbai 400049
Best Before: 36 Months
Manufactured By: Amwoodo Eco Products Pvt Ltd, 13D Ballygunge Place East Ballygunge, Kolkata
Country of Origin: India