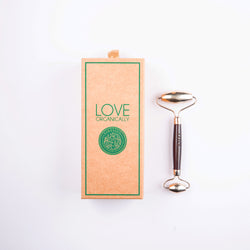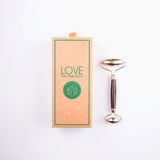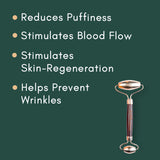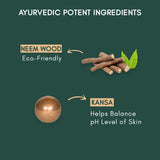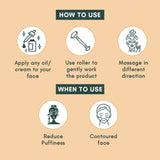 Love Organically
Kansa Facial Massage Roller
Rs. 1,400
Inclusive of all Taxes
The ancient metal of Kansa comes with a heritage of beneficial skin properties.
Brass and tin combined to give skin the finish of gold. While the hand-carved, Neem
wood handle is an aromatic disinfectant. The Kansa Facial Massage Roller is the best
tool to dispense product on the skin as it allows for an even, mild pressure reducing
the chances of wrinkles. The smooth roller stimulates lymphatic drainage as well as
blood flow, it is cooling and helps reduce puffiness in the skin. Think of rolling as a
massage to help tone and lift skin, much like a massage it also elevated your mood.
Benefits
    Reduces Puffiness
    Stimulates Lymphatic drainage
    Stimulates blood flow
    Stimulates skin-regeneration
    Help prevent wrinkles
    Helps Spread product effectively and without waste
    Elevates Mood
Ingredients: Neem Wood & Kansa 
1. The Product contains natural ingredients & may change color and fragrance, without losing the effectiveness. 
2. Even natural ingredients can cause and trigger existing allergies. A patch test is recommended.
3. In cases of any rashes or allergy, please consult a specialist 
4. For external use only. Store in cool and dry place


Marketed By: Happyskin Promise Pvt Ltd
5th Floor, Pooja House, Next to Starbucks, Juhu Tara Road Mumbai 400049

Best Before: 36 Months
Manufactured By: MEDIEVAL EDGE, A4/13 Phase 2 Sec 80 Noida
Country of Origin: India