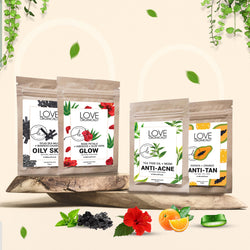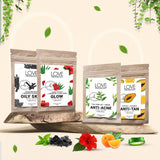 Love Organically
COMBO of 4 - Love Organically Face Pack
Rs. 584
Rs. 898
Inclusive of all Taxes
Introducing our face pack combo set! This set includes a variety of face packs specifically formulated to target your skin concerns.
Glow Face Pack - Dulgent face pack that nourishes the skin with extracts of Rose and Hibiscus along with soothing Aloe vera.  A beauty secret of royal princesses across the globe – from Noor Jahan to Cleopatra – the rose tones, hydrates and strengthens the skin, leaving it unbelievably soft, smooth and glowing. Hibiscus has a sort of Magical reputation in skin care because it is a natural source of alpha-hydroxy acids (AHAs). Addition of cooling Aloe vera improves skin's natural firmness and lends a surge of hydration and revives the complexion.
Oily Skin Face Pack - If you have oily skin, our oily skin face pack will slowly curb those pesky midday greasies. Introducing a purifying face pack with charcoal and clays that cleanses pores of bacteria and irritants, and visibly clarifies the complexion.
Anti-Acne face Pack - A purifying and detoxifying pack, filled with the goodness of Neem leaves and Tea Tree oil that fights pimple-causing bacteria, and leaves the skin clear, refreshed and even toned. The anti-bacterial and antifungal properties in Neem leaves and Tea Tree oil that kill the acne and pimple causing bacteria leaving you with smooth clear skin.
Anti-Tan face pack - Gets rid of the sun-induced tan, freckles and dark spots. It is packed with the goodness of nature and approved sun filters, Orange Peel Powder, and Papaya. Rich in citric acid, orange peel works as a natural bleach for our skin that lightens the tan and fades away blemishes and scars. Papain, the enzymes present in papaya, is also effective in skin renewal and skin lightening.